Rangers will finalize roster on Saturday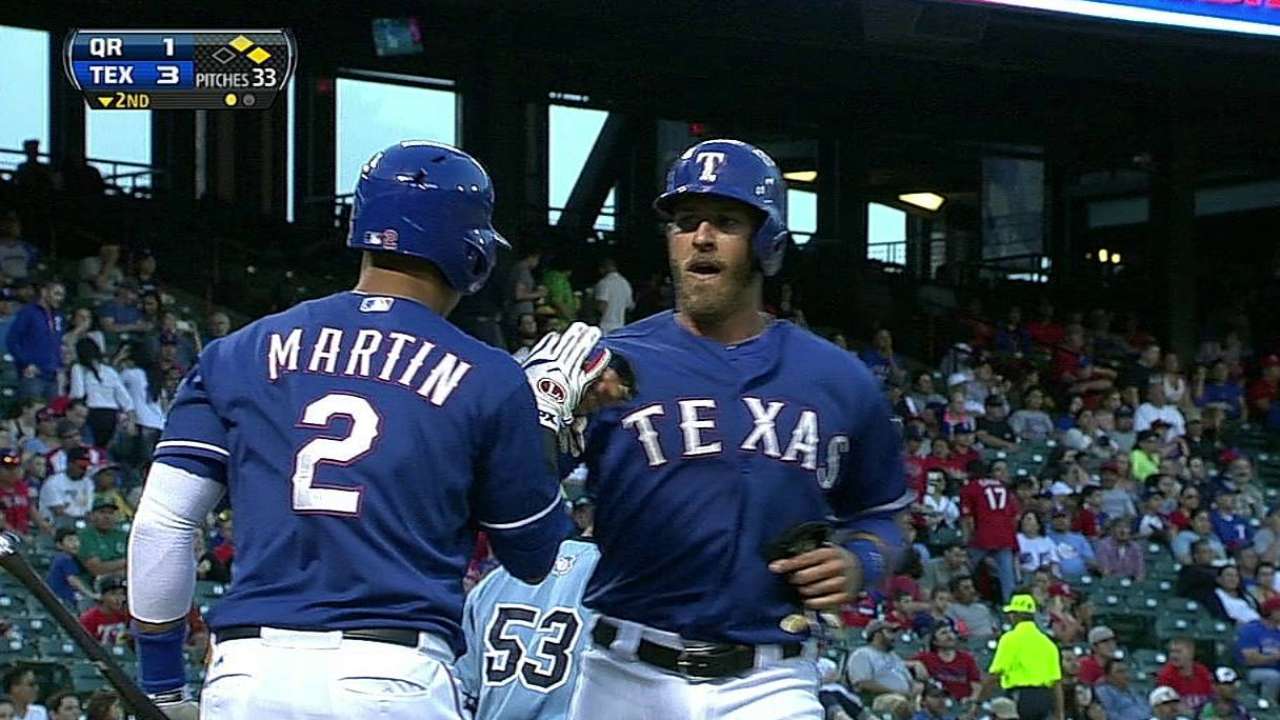 SAN ANTONIO -- Saturday will be decision day for the Rangers as they finalize their roster.
They have to decide who will be their utility infielder behind Opening Day second baseman Josh Wilson. Donnie Murphy made a favorable impression on Thursday night when he went 2-for-3 with a home run and a double and Adam Rosales is still in camp competing for that spot.
Murphy started at second base for the second straight game on Friday night against the Astros. But Wilson has impressed the Rangers from the beginning of camp, is the best defensive player among the candidates and has done enough offensively to at least merit an Opening Day start at second base. Murphy was claimed on waivers from the Cubs on Wednesday.
"Anytime you get picked up, it's always a positive," Murphy said. "It means a team sees you being able to help out in any role. It's pretty exciting to be here."
The Rangers are looking to fill the final two spots in the bullpen behind closer Joakim Soria, right-handers Alexi Ogando and Jason Frasor and left-handers Neal Cotts and Pedro Figueroa. Right-hander Shawn Tolleson is a leading candidate to get one spot. He had a 2.25 ERA in four Cactus League games and pitched two scoreless innings against the Quintana Roo Tigers on Thursday night.
Right-hander Daniel McCutchen, left-hander Ryan Feierabend and Rule 5 Draft pick Seth Rosin are also in camp. McCutchen and Feierabend are being viewed as potential long reliever candidates. That's a role the Rangers envisioned for Tommy Hanson but he preferred to take his release and try to find a job as a starter.The Rangers are taking the weekend to evaluate Rosin, who must be on the Major League roster all season or be offered back to the Phillies for $25,000.
Michael Kirkman will not be in the bullpen. The Rangers designated him for assignment on Friday afternoon to make room for catcher Chris Gimenez, who was claimed on waivers from the Athletics.
Kirkman was 2-5 with a 5.17 ERA in 82 appearances for the Rangers over the past four years. There were times when he appeared close to be developing into a dominating left-handed reliever. But he had to deal with skin cancer in each of the past two seasons and that set him back. He came to camp out of options.
"He just didn't make the team," manager Ron Washington said. "It's obvious we care about Michael Kirkman and struck with him last year when things weren't going right. There was competition and he didn't make the team."
T.R. Sullivan is a reporter for MLB.com. Read his blog, Postcards from Elysian Fields, and follow him on Twitter @Sullivan_Ranger. This story was not subject to the approval of Major League Baseball or its clubs.