Choice bats leadoff against former team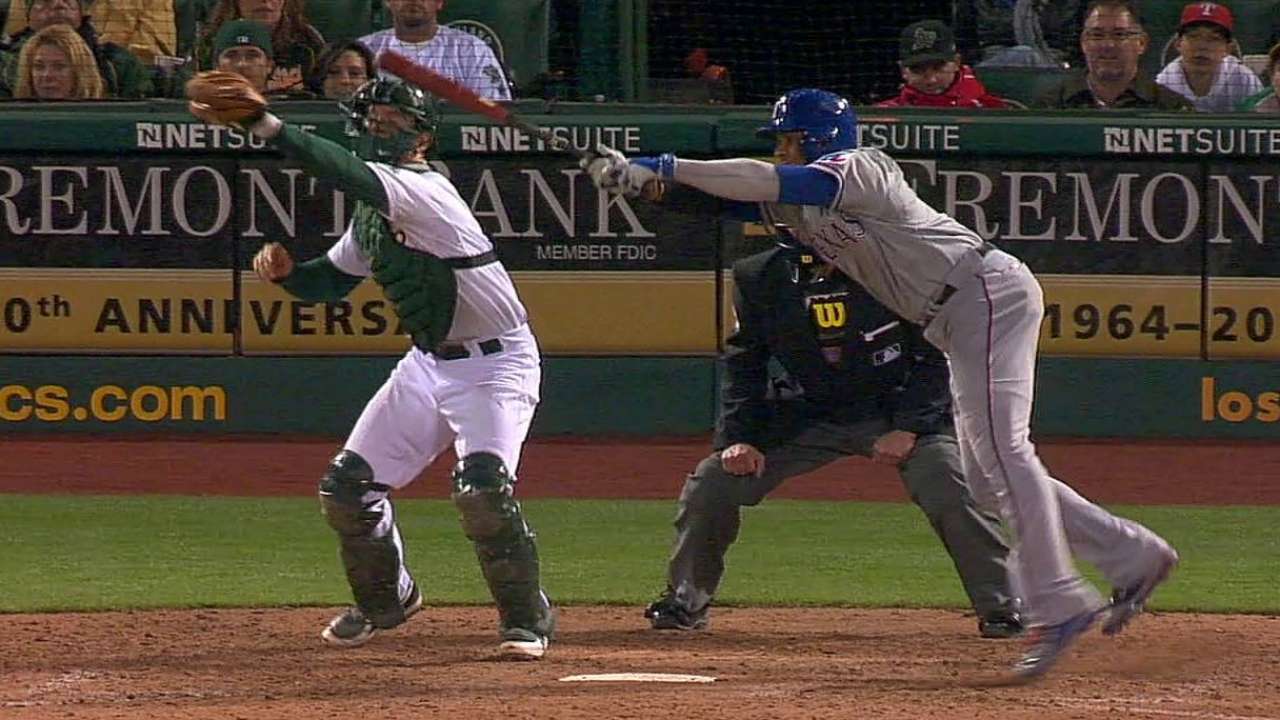 OAKLAND -- With outfield Shin-Soo Choo sidelined with a sprained left ankle, Michael Choice moved into the leadoff spot for the Rangers on Tuesday night with left-hander Tommy Milone on the mound for the Athletics.
"I wanted to keep everybody else together so I put Michael up top," Rangers manager Ron Washington said. "He can see pitches. He can get lucky with one swing of the bat and get us a run. I wanted to keep everybody else where they are so as I go through the lineup, I can maneuver."
The Rangers option was Leonys Martin, who had limited experience as a leadoff hitter last year and went into Tuesday's game with nine hits in his last 19 at-bats. But Washington didn't want Martin's left-handed bat at the top of the lineup with a left-hander on the mound for the Athletics.
No matter who Washington chooses, losing Choo would be another tough blow for a lineup that already has catcher Geovany Soto, second baseman Jurickson Profar and third baseman Adrian Beltre on the disabled list. Choo went into Tuesday's game hitting .314 with a .432 on-base percentage as a leadoff hitter that was the second highest among American League players with at least 10 games in that spot in the order.
His first-inning leadoff home run on Monday night was his 12th in the past three seasons, the most in the Major Leagues. Ian Kinsler and Coco Crisp both have nine. It was also the first time a Rangers player had hit a home run leading off in Oakland since Alfonso Soriano in 2004.
"He's one of the best leadoff hitters in the game," Washington said. "But the Texas Rangers, we're going to continue to fight."
T.R. Sullivan is a reporter for MLB.com Read his blog, Postcards from Elysian Fields and follow him on Twitter @Sullivan_Ranger. This story was not subject to the approval of Major League Baseball or its clubs.