Several injured Rangers making progress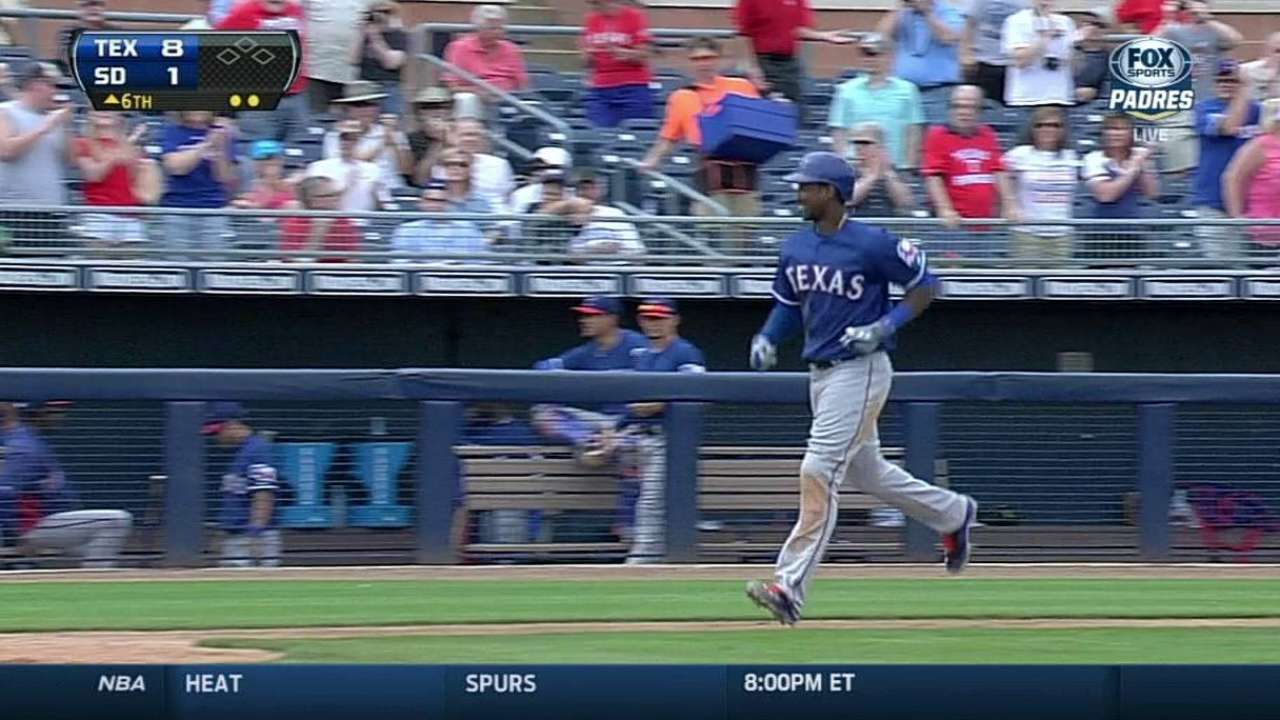 ARLINGTON -- Assistant general manager Thad Levine issued a slew of injury updates before Tuesday's game as several Rangers continue to work toward returning to action.
Second baseman Jurickson Profar (right shoulder) had an MRI and was cleared by team physician Dr. Keith Meister to resume baseball activities. He'll start swinging a bat immediately, Levine said, and will start a throwing program in a week assuming he progresses well. Profar was placed on the 60-day disabled list near the end of Spring Training and will be eligible to return at the end of May, though the team will not rush him back.
"With what we experienced in Spring Training in terms of an effort to ramp him up a little bit faster, I can see us being a little bit more cautious with him," Levine said. "I think we'll use every bit of the time to make sure that he's a full-go when he gets back on the field."
As for the rest of the injury updates:
• Catcher Geovany Soto (torn meniscus, right knee) is still in a brace for another week or two, but remains on schedule to return in June, Levine said.
• Left-handed starting pitcher Derek Holland (left knee surgery) continues to participate in pitchers' fielding practice drills and will throw another bullpen session Wednesday.
• Left-handed reliever Pedro Figueroa, whose season ended April 22 when he injured his throwing elbow in a game in Oakland, will undergo Tommy John surgery for the second time, as well as flexor tendon surgery, on Wednesday.
• Tanner Scheppers (right elbow inflammation), the team's Opening Day starter, will begin a throwing program Wednesday.
• Starting pitcher Joe Saunders is scheduled to throw three innings, or about 50 pitches, in an extended spring game Friday in Arizona. After that, he'll begin a more formal rehab program.
• Outfielder Engel Beltre (fractured right tibia) is "progressing ahead of schedule," Levine said. He is eligible to return May 29.
• Left-handed reliever Joseph Ortiz (fractured right foot) has just begun a throwing program in Arizona.
• Third baseman Kevin Kouzmanoff (herniated disk) is likely to have back surgery but will be re-evaluated Friday.
• Finally, former closer Neftali Feliz, who was placed on the Minor League disabled list last week with "general soreness" in his right elbow, is now "pain free" according to Levine and is expected to begin a throwing program soon.
Dave Sessions is a contributor to MLB.com. This story was not subject to the approval of Major League Baseball or its clubs.