Perez to miss next start; Tepesch on the way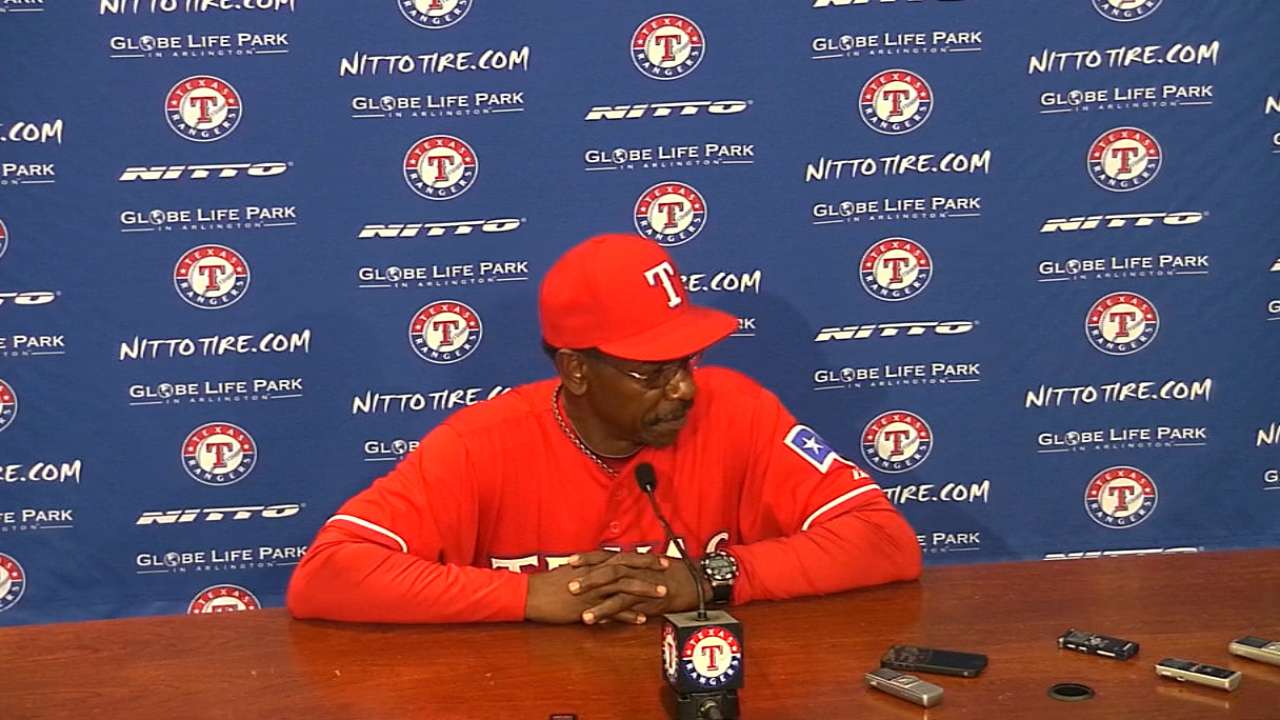 ARLIINGTON -- Martin Perez experienced discomfort in his left elbow after his third straight subpar start Saturday and will miss at least one start. He was previously slated to make his next start Friday against the Blue Jays.
Right-hander Nick Tepesch was scratched from his start for Triple-A Round Rock on Sunday and will start for the Rangers in Wednesday's series finale against the Astros. Tepesch is 6-1 with a 1.58 ERA for Round Rock this year, going 4-0 with a 0.35 ERA in his last four starts. He went 4-6 with a 4.84 ERA in 19 apperances, including 17 starts, as a rookie with the Rangers last season.
Yu Darvish, who was originally scheduled to start Wednesday, will now take the mound Friday. Darvish threw 126 pitches in Friday's win over the Red Sox, when he took a perfect game into the seventh inning and lost a no-hitter with two outs in the ninth inning for the second time in his career. But the decision to move him back to Friday was primarily because Perez was scratched from his next start.
Perez has followed three stellar starts with three subpar performances, going 0-3 with a 12.83 ERA in his last three outings after winning his previous three starts, tossing a collective 26 scoreless innings during a stretch that included back-to-back complete-game shutouts. Perez allowed six runs on nine hits over a season-low 3 2/3 innings of Saturday's 8-3 loss to the Red Sox.
"You can see the wheels turning a little faster than it did in the beginning," Washington said. "He's got to slow it back down. Once he slows it back down and starts to believe in his stuff, he'll get back to where he needs to be."
With the strange string of outings, Perez became only the second player in the modern era to follow up three straight scoreless starts by surrendering at least as many runs as innings pitched in each of his next three starts. His next start is scheduled for Friday against the Blue Jays.
"When you're dealing with youth, you're dealing with guys that haven't had a lot of failure," Washington continued. "If you're not patient, you can destroy them more. So you've got to be patient. We believe in him. We've got to get him back to believing in himself."
Christian Corona is a contributor to MLB.com. This story was not subject to the approval of Major League Baseball or its clubs.