MLB.com Columnist
Mike Bauman
Depth perception: Those who have it in rotation thrive
With pitcher injuries on rise, clubs that can fill from within are the ones finding success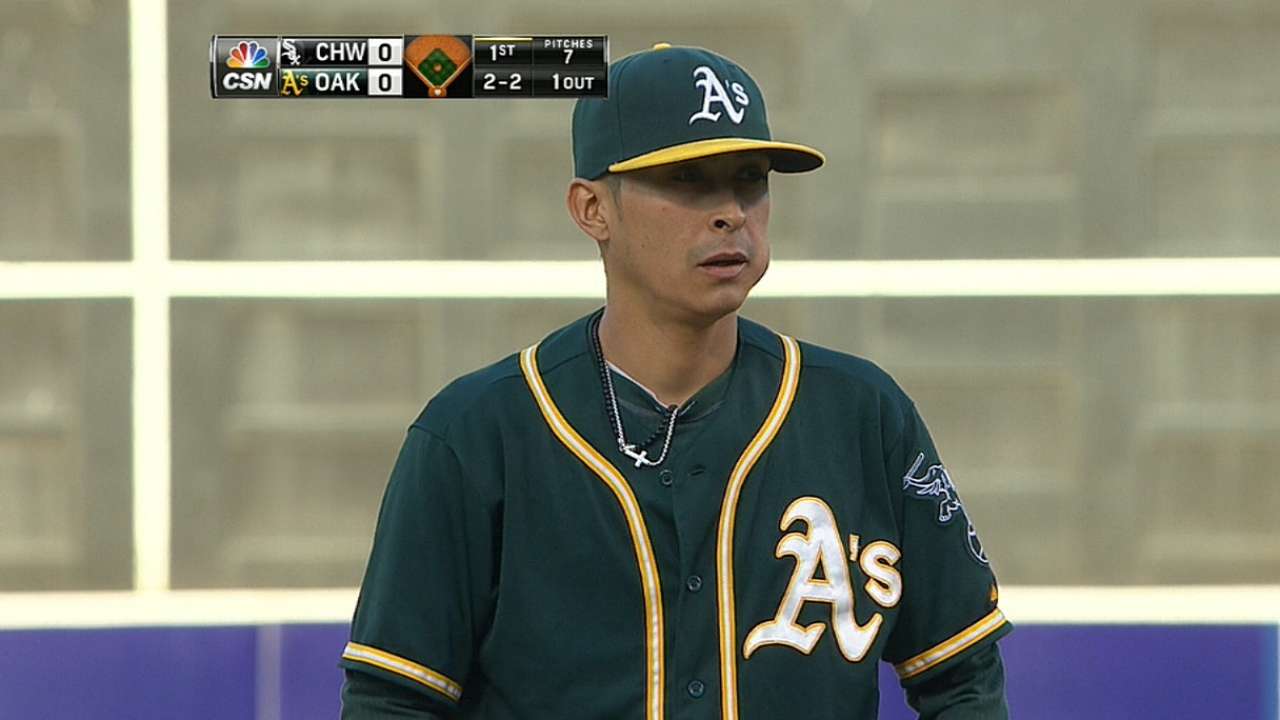 It is not the team that leaves Spring Training with the best five starting pitchers that wins.
It is the organization that leaves Spring Training with the best seven starting pitchers that wins. Or the best eight starting pitchers. Or, taking no chances whatsoever, the best nine or 10 starting pitchers.
In a season in which an apparent epidemic of pitching injuries has already occurred, the premium organizational quality is not simply pitching, but pitching depth.
The classic example of that notion in 2014 is the Oakland Athletics. The A's have lost two of their best starters -- Jarrod Parker and A.J. Griffin -- for the season. But they had suitable replacements already on hand. The result is that Oakland not only leads the American League West, but it has the second-best record in the Major Leagues.
Most clubs, however, are not as well-stocked with Major League-quality starting pitching. Neither massive market size nor impressive revenue streams are safeguards against a day when the pitching shortage occurs.
This is the situation with the New York Yankees, who seemed this spring to have an imposing rotation. Longtime rotation ace CC Sabathia, commendable veteran righty Hideki Kuroda, incoming phenom Masahiro Tanaka, promising Ivan Nova and power-pitching Michael Pineda -- returning from injury -- formed what looked like a winning blend of veteran know-how and developing potential.
But now, with the news that Sabathia will not be returning from a knee injury until at least July, the Yankees' pitching situation looks considerably less promising. Nova is out for the season. Pineda is out until next month. At the moment, the Yanks are missing 60 percent of their projected rotation and are making do with internal options. Tanaka has been better than the Yankees hoped, but even he can only cover 20 percent of the starts.
External pitching options are not typically available in May. It is still early enough in the season that most if not all 30 clubs believe that they are contenders, regardless of the actual circumstances. Not only that, the number of clubs that have suffered pitching injuries has further reduced the current pitching market to a level barely above zero.
Yankees general manager Brian Cashman alluded to this on Monday when he said: "It's a very complex situation. The scarcity of pitching is real, and so we will continue to give opportunities internally until anything that presents itself externally -- and that we can get our hands on -- exists."
One exception to the "everybody is still in contention" concept would be the Chicago Cubs, whose organizational game plan does not include contending in 2014. Therefore, Jeff Samardzija, their best starter, might be available earlier in the season.
And Samardzija, in a moment of non-partisan candor, might welcome a new job and a change of scenery. The guy has the second-best ERA in the Majors at 1.62, but pitching for the Cubs, all that work has gotten him in nine starts is a record of 0-4. When do the pro-Samardzija protesters start appearing outside Wrigley Field with the "Free Jeff!" signs?
There will be growing speculation about other big-name pitchers as the season wears on. If the Phillies fall out of contention, Cliff Lee's name will be the center of speculation, although the Phils have consistently turned aside all suggestions that trading Lee should be the focal point of a rebuilding effort. They have consistently neither traded Lee nor rebuilt.
Stories suggesting that Lee will be acquired by the Yankees have been a staple of American life for years. After Lee retires, we will miss these stories. In the meantime, the Yanks probably had a better shot at Lee when he was a free agent. The Yankees do not have the wealth of prospects to make a team that actually is trading pitching automatically say: "Hey, those guys are the most logical trading partners on the planet."
As it turns out, the best thing to do when pitching injuries strike is to have a Jesse Chavez and later a Drew Pomeranz ready to step into the rotation. This is what the A's have done.
Having your own organizational pitching depth is a far better alternative than looking for pitching in a market that just barely exists.
Mike Bauman is a national columnist for MLB.com. This story was not subject to the approval of Major League Baseball or its clubs.