Rangers dip into high school ranks for Ortiz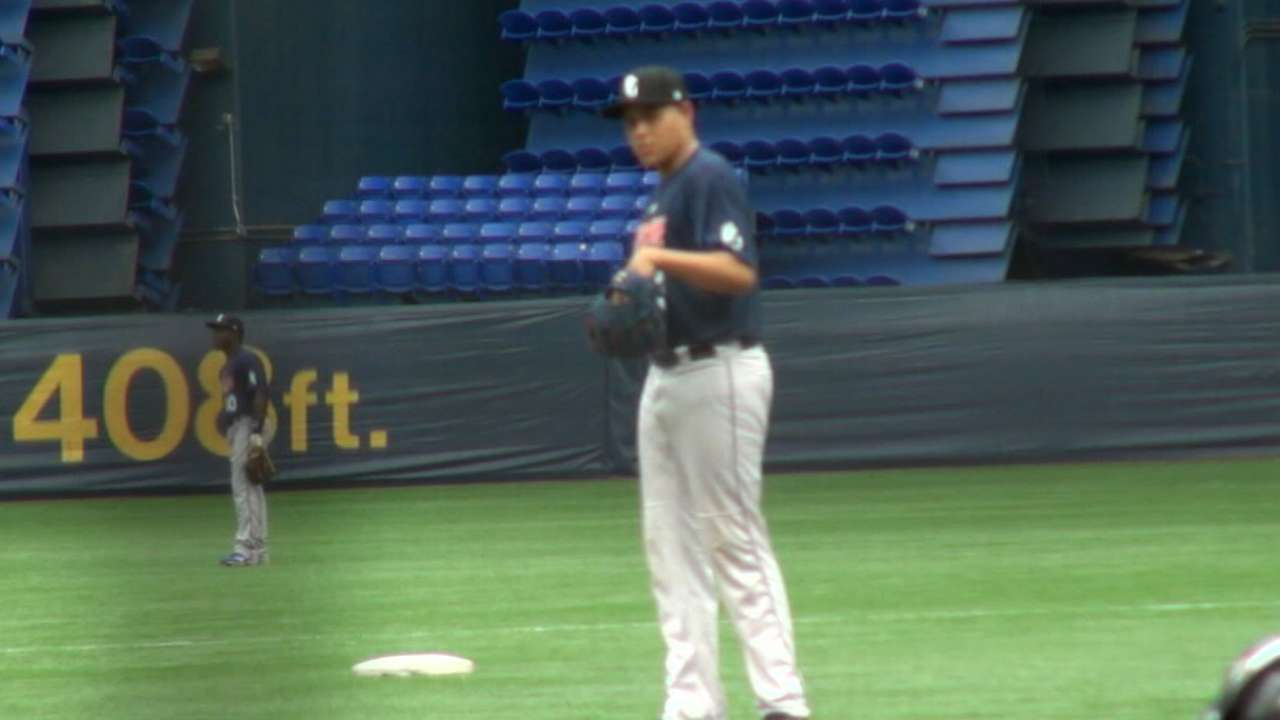 ARLINGTON -- When the 2014 First-Year Draft began on Thursday night, the Rangers did not think they had a chance of drafting high school pitcher Luis Ortiz.
The Rangers had him projected to go in the upper half of the first round, long before they made the No. 30 overall pick.
"We thought it was unlikely, based on what we were hearing, that he would be there," general manager Jon Daniels said.
Ortiz, a 6-foot-3, 220 pound right-hander out of Sanger (Calif.) High, was there and the Rangers made him their first pick of the Draft. The Rangers expect him to sign quickly for approximately the assigned value of $1,760,500. The Rangers took Ortiz with the compensation pick they received from the Orioles for signing free-agent outfielder Nelson Cruz.
"I'm honored the Rangers gave me this opportunity," Ortiz said. "They saw something in me and I'm willing to work hard to become an All-Star in the Major Leagues. We had some good in-house meetings and clicked right away."
Ortiz, who was followed extensively by Rangers scout and former Major League pitcher Butch Metzger, was 5-3 with a 1.04 ERA and 72 strikeouts in 43 2/3 innings this year. He also has significant national and international competition experience. He was the World Cup MVP after serving as the closer for the 18-and-under USA Baseball national team that came home with the gold medal. MLB.com rated Ortiz as the 24th best overall prospect, and he has committed to Fresno State.
"There were some other guys we liked, but nobody in his category," Daniels said. "He was always our guy. Our guys were pretty ecstatic. He has big league stuff right now. It's not projectable. He has real power and is a strike thrower."
"He pitched on Team USA and has performed on all the biggest stages," Daniels said. "We liked him as a top half, elite kind of talent. [He has] good pure stuff and is a strike thrower with a big fastball with life. His out-pitch is a power slider. He has a repeatable delivery. He's a big time competitor."
Ortiz never had a pitching coach helping him but taught himself how to pitch. Ortiz said he learned about pitching from watching television and tried to model himself after Felix Hernandez.
"I repeated myself after King Felix and did it in the mirror with repetition," Ortiz said. "I was playing catch and long toss, that was about it. I just got on the mound and knew I could be around the plate and throw strikes. ... I considered myself one of the best pitchers in the Draft."
Ortiz did miss one start because of some tightness in his arm, but the Rangers do not expect that to be a major issue.
"I had a forearm injury, but it was not a big deal," Ortiz said. "It's just tendinitis, it comes and it goes. When you're committed to pitching, you never say no to the ball. I want the ball. That's my ego, I want to compete. Sometimes you have to say no, but it's just tendinitis. It comes and goes."
Ortiz also lost a significant amount of weight between his junior and senior seasons. Daniels said the Rangers said they viewed that as a sign that Ortiz is committed to his professional career.
"We expect him to go out immediately, get into our system and start having success," Daniels said.
T.R. Sullivan is a reporter for MLB.com. Read his blog, Postcards from Elysian Fields, and follow him on Twitter @Sullivan_Ranger. This story was not subject to the approval of Major League Baseball or its clubs.