Holland making measured progress with knee injury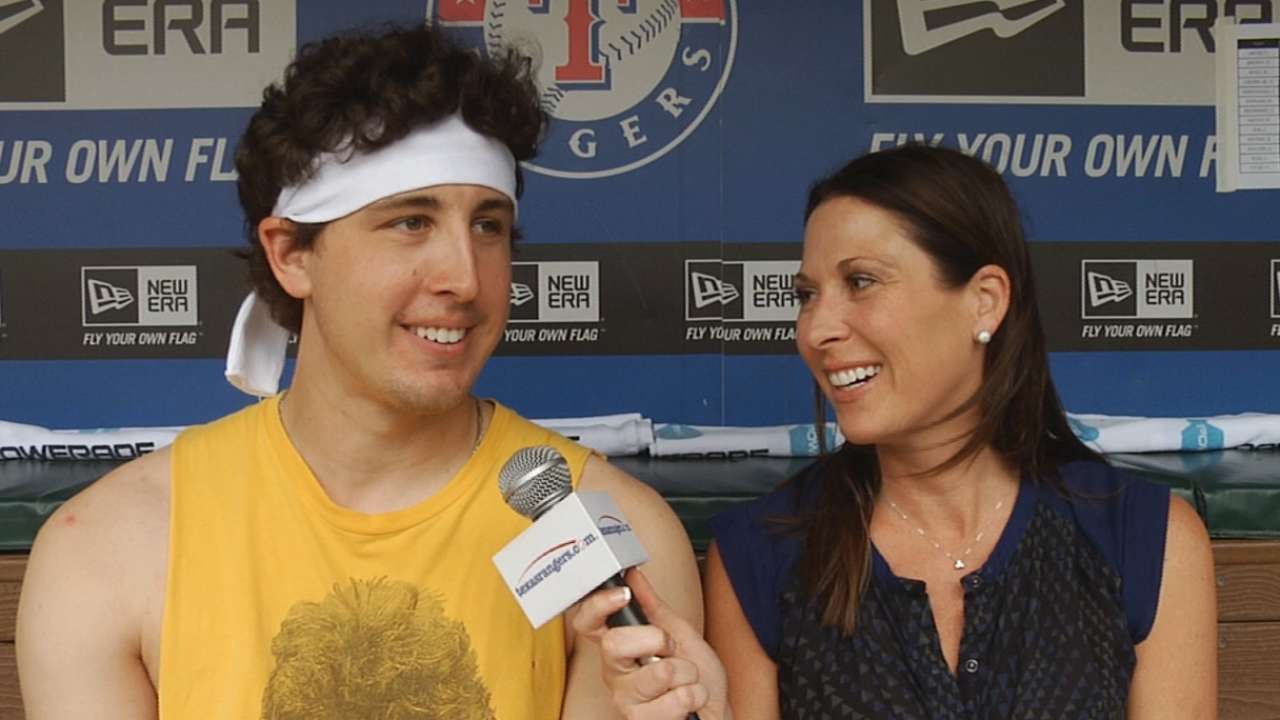 ARLINGTON -- Despite earnestly hoping he'd be bound for a medical rehab Monday after taking another pitcher's fielding practice, Rangers pitcher Derek Holland learned that he's not quite ready yet, and he will likely head to Arizona on Wednesday to do a couple of live batting practice sessions while the Rangers are on the road.
Holland fell at home in January, injuring his left knee, and had surgery for it.
He spent between 10 and 15 minutes on the field Monday fielding bunts both towards first and third, as well as directly at him. He also practiced covering first base.
"I'll do a couple of live BPs on the road trip while they're gone, come back and we'll see how everything goes from there," Holland said. "I feel good. I feel like there's still room for improvement, and we'll go from there."
Though he knows that ultimately the Rangers are looking out for his safety by not allowing him to begin a rehab assignment yet, the look on his face Monday showed his evident frustration.
"I feel like I can go out and play with it," Holland said. "But the real thing is that's not going to happen."
Rangers manager Ron Washington said Holland is certainly looking healthier but that it is still clear he's not ready. He'll be re-evaluated June 24 after the Rangers complete a nine-game road trip.
In 2013, Holland was 10-9 with 33 starts and a 3.42 ERA. He had 189 strikeouts in 213 innings.
"Yeah, it's better, but it's not ready for competition. Our projection was after the All-Star break, so no need to be getting excited right now," Washington said. "It's better, he's able to move around, but it's not ready for competition. … My eyes tell me he's not ready."
Also working out on the field before the Rangers' matchup with the Indians Monday was Engel Beltre, who has been on the disabled list with a fractured tibia in his right leg. Beltre sustained the injury in winter ball, when he was hit by a pitch.
Beltre will head to Arizona along with second baseman Jurickson Profar, who tore a muscle in his right shoulder in March.
"[Beltre] ran the bases, he's running well," Washington said. "Next step for him I guess would be to go down to Arizona and get some action, do some sliding and all of that."
Grace Raynor is an associate reporter for MLB.com. Teddy Cahill is a reporter for MLB.com. Follow him on Twitter at @tedcahill. This story was not subject to the approval of Major League Baseball or its clubs.