Washington not happy with Rios, Choice ejections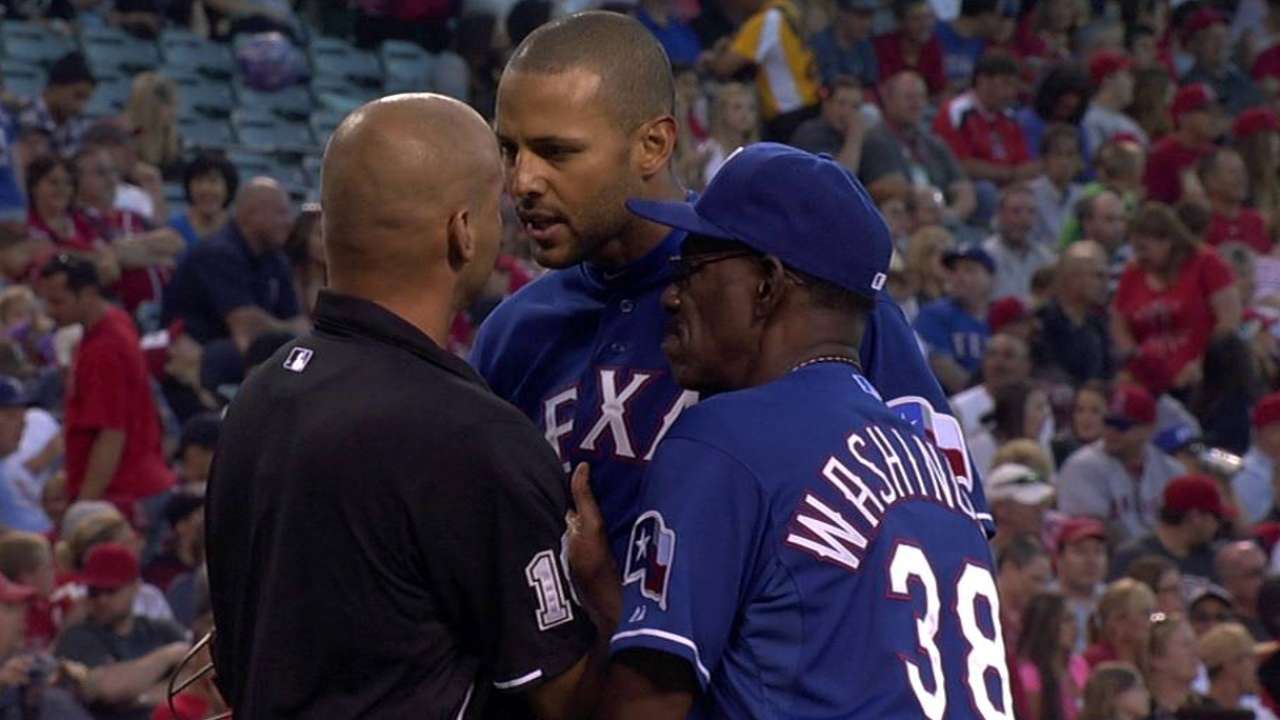 ANAHEIM -- Rangers manager Ron Washington said he had no plans to take the lineup card to the plate Sunday, because of umpire Vic Carapazza's ejections of Alex Rios and Michael Choice for arguing strikes the night before at Angel Stadium.
"If I had an issue with an umpire, I'd go to the umpires' room," said Washington, who on Saturday accused Carapazza of having "a quick trigger" on ejections.
"Only one time I took the lineup card up there, and that's because I was wrong," Washington said, "and I told [John Hirschbeck] I shouldn't have said what I said. I wanted to apologize to him and his crew."
The Rangers' manager maintains he doesn't owe Carapazza an apology. Carapazza, who was added to the full-time Major League staff in 2013, has three of the Rangers' six ejections this season. He tossed pitching coach Mike Maddux on May 10.
"[Carpazza] needs to settle down," Washington said. "What bothers me is, the veteran umpires haven't coached him. He needs to change. There's going to be some complaints written up on him.
"It was his interpretation of arguing balls and strikes. Unfortunately, Vic is one of those you can't say anything to about a pitch."
Washington maintains neither Rios nor Choice said or did anything to merit an ejection.
Earl Bloom is a contributor to MLB.com. This story was not subject to the approval of Major League Baseball or its clubs.