Rangers send down struggling Choice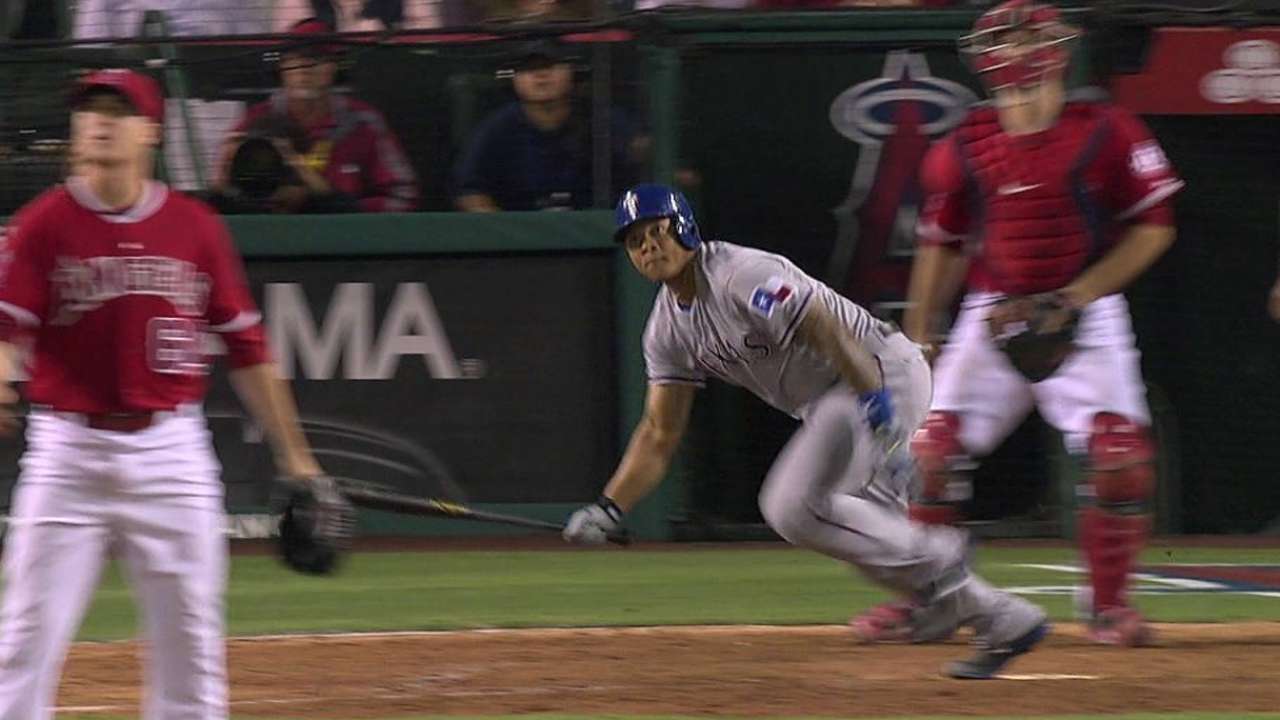 ARLINGTON -- Just a day after they arrived back in Texas from a seven-game road trip in which they went 1-6, the Rangers made four roster moves Monday.
Michael Choice has been optioned to Triple-A Round Rock, while Donnie Murphy has been designated for assignment. The Rangers have recalled right-handed pitcher Roman Mendez and have purchased the contract of outfielder Jake Smolinski.
Mendez and Smolinski will be available Monday against the Astros. Rangers general manager Jon Daniels spoke with the media Monday about the moves.
He started with Mendez, whose primary role will be to help out a bullpen that has been used quite a bit as of late.
"We're going with the extra reliever most likely just through the All-Star break. Obviously we've taxed our bullpen pretty heavy here the last few weeks especially in a stretch of 20 in a row without a day off," Daniels said. "It takes a toll. So we'll get the extra reliever to kind of help spread the workload around a little bit."
Daniels said Mendez, who has recorded 30 strikeouts in 25 relief Round Rock appearances, was a recommendation of the Triple-A staff.
The decision to option Choice was due to obvious offensive struggles. "He needed to go get himself together," Rangers manager RonWashington said. "We still have a lot of faith in him, it's just that his struggles have become mental."
As of Monday, Choice was batting just .177.
"We're all human. It's hard. Failure is hard and it's a reality at this level," Daniels said. "If you have a weakness, guys expose it. Until you can make that adjustment they're going to keep going back there."
Daniels said Nelson Cruz could serve as an example for Choice.
"Traded for him in 2006 -- high hopes, PCL MVP -- but it's really almost a two-year period until he established himself," Daniels said. " I don't think what Michael has to do is quite at that level and we expect it'll be a quicker turnaround, but a lot of very good players go through ups and downs."
The Rangers chose to bring Smolinski up over Engel Beltre and Jared Hoying, who hit .347 with six homers and 21 RBI in the month of June.
"He was up [in Triple-A] last year and [he's] a right-handed hitter," Daniels said of Smolinski. "Michael going down, it just felt like it was a little bit better fit right now -- let Jared continue building on what he's doing."
Grace Raynor is an associate reporter for MLB.com. This story was not subject to the approval of Major League Baseball or its clubs.