Ex-Jay Arencibia responds to boos with home run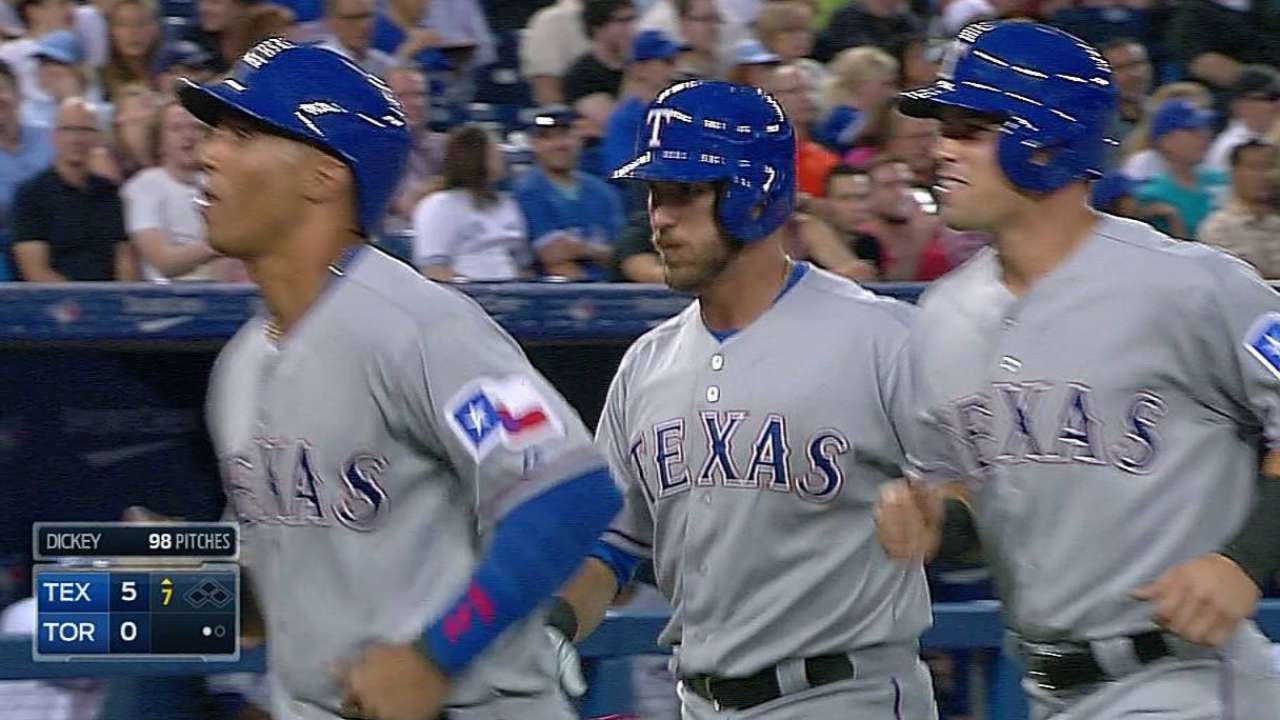 TORONTO -- J.P. Arencibia felt right at home when he stepped to the plate at Rogers Centre as an opposing player for the first time on Friday, greeted by a chorus of boos.
The former Blue Jay, who was non-tendered by Toronto in the offseason after spending parts of four years with the club, proved as much in his third plate appearance of the night.
Arencibia smoked a first-pitch offering from Toronto starter R.A. Dickey on a line to left field for his second homer of the season to put the Rangers ahead 5-0 and silence the crowd of 38,012.
"I view it as they cared for me," Arencibia said of the boos, following the Rangers' 5-1 series-opening win. "It's definitely better as an opposing player if you get booed.
"I have a lot of great memories here and that's definitely not going to do anything to take it away. It's kind of flattering when they boo you, it gives you a little bit more fire."
After serving as Toronto's starting catcher for three seasons from 2011-13 and averaging over 20 homers a year, Arencibia returned to Toronto as Texas' starting first baseman.
In four trips to the plate, he went 1-for-3 with a season-high three RBIs and was hit by a pitch in the fifth, later coming around to score on Rougned Odor's triple.
Rangers manager Ron Washington is hoping Arencibia can build off Friday's game.
"I hope it gives him confidence. He certainly didn't lack it when he arrived here from the Minor Leagues," the skipper said. "It was nice for him to come through right there. It was big, it was huge. Getting hit by the pitch was huge, too. He had a good night back.
"It has got to continue. At least he gives us some threat in that lineup."
Arencibia, who had his contract purchased from Triple-A Round Rock on Thursday, had an up-and-down ride with the Blue Jays, who selected him in the first round of the 2007 First-Year Player Draft.
"This is where it all started for me," Arencibia said. "I have a lot of memories. This is home for me. It was home for me for a long time. I spent a lot of hours in this dome, in this city. It's different to come back but I'm excited to be back."
Arencibia became an instant fan favorite in Toronto after going 4-for-5 with two home runs in his Major League debut at Rogers Centre back in August 2010. His relationship with the fan base strengthened due to his active community work, but took a downward turn as a result of his struggling play in 2013 -- he hit .194 with a .227 on-base percentage -- and well-documented social media and radio spats with Toronto reporters.
The 28-year-old steered away from answering pregame questions about the rocky times leading up to his departure with the Blue Jays, choosing instead to focus on the positives.
"All the people that no one really knows about that make this thing go, that's what's most special for me, that when I walk through these hallways, all of them are excited for me to be back," Arencibia said. "I always wanted to treat everyone the way I wanted to be treated myself. There's a lot people I feel like I made a positive influence on, and if it's one person, I think you're doing a good job and I think I was able to do it to more than one."
Arencibia is back for his second stint with the Rangers after hitting .279/.320/.542 with 14 homers and 41 RBIs in Triple-A. With a logjam behind the plate -- the Rangers now have four catchers on the active roster -- the plan is for Arencibia to receive the majority of his playing time at first base.
The Florida native broke camp with the Rangers but was optioned to Triple-A in mid-May after hitting .133 with a .182 on-base percentage over 20 games and 66 plate appearances.
Chris Toman is a contributor to MLB.com. This story was not subject to the approval of Major League Baseball or its clubs.