Rangers think Adduci can be helpful addition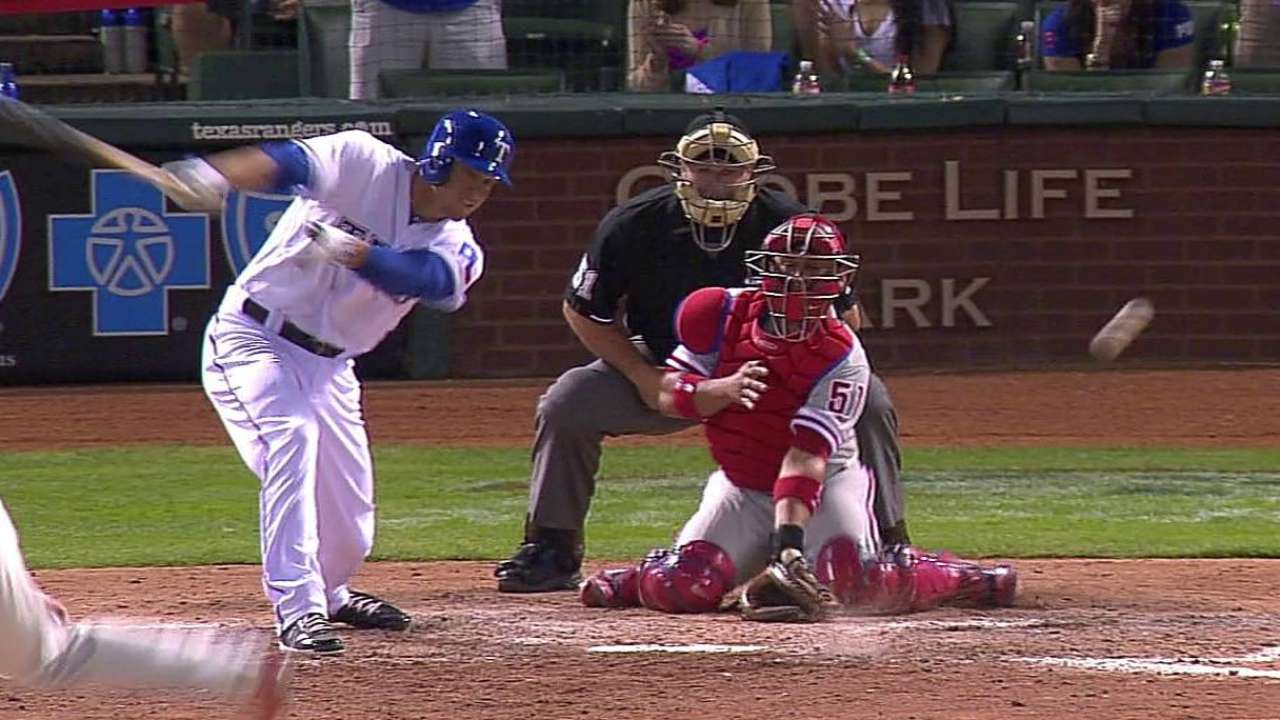 TORONTO -- Jim Adduci, who is 1-for-6 in two games in his current rehab assignment with Triple-A Round Rock, could rejoin the Rangers after the club finishes its three-game series against the Blue Jays at Rogers Centre.
The Rangers want to get a good look at the 29-year-old Adduci, who is recovering from a fractured left pinkie finger. Adduci broke his finger in April, and he began a rehab assignment in June before re-breaking it, which delayed his recovery time.
Adduci played nine innings in back-to-back contests with the Express, and Rangers general manager Jon Daniels doesn't believe he will need more than a handful of games to get his endurance back.
"I think a good chance in New York [for a four-game set against the Yankees] after the weekend," Daniels said about a possible return. "Kind of get him an extended run of at-bats. He has swung the bat well."
With first basemen Prince Fielder (neck surgery) and Mitch Moreland (left ankle surgery) both out for the season, coupled with Texas' struggling play -- the club entered Saturday's contest at 39-57, the worst record in baseball -- Adduci would have been a prime candidate to receive a majority of their at-bats.
But the hand injury cost him a look.
"We haven't had a chance to kind of give him an extended run," Daniels said. "These last couple of months would have been perfect for him. I would really like to see what he can do, but with the finger, he wasn't able to take advantage of it."
Adduci has appeared in nine games with the Rangers this season, hitting .462 (6-for-13) with a 1.077 OPS. The Canadian native made his Major League debut with Texas in 2013, batting .258/.324/.290 in 17 games.
Where Adduci fits in remains unclear after the Rangers purchased the contract of J.P. Arencibia from Round Rock on Thursday to play first base. The left-handed hitting Adduci could work himself into a platoon with Arencibia, who bats right-handed, and Adduci will likely see some time in the outfield to give starters Shin-Soo Choo, Leonys Martin and Alex Rios a day off.
"He's going to play," Daniels said, "but it's up to [Rangers manager Ron] Washington. He can play first base, all three outfields spots, and maybe give Wash a chance to use the DH for some of the other guys. He's a guy we view as a little bit of a late bloomer. We are looking forward to seeing him get out there and seeing how he can do."
Chris Toman is a contributor to MLB.com. This story was not subject to the approval of Major League Baseball or its clubs.