Rios day to day with sprained right ankle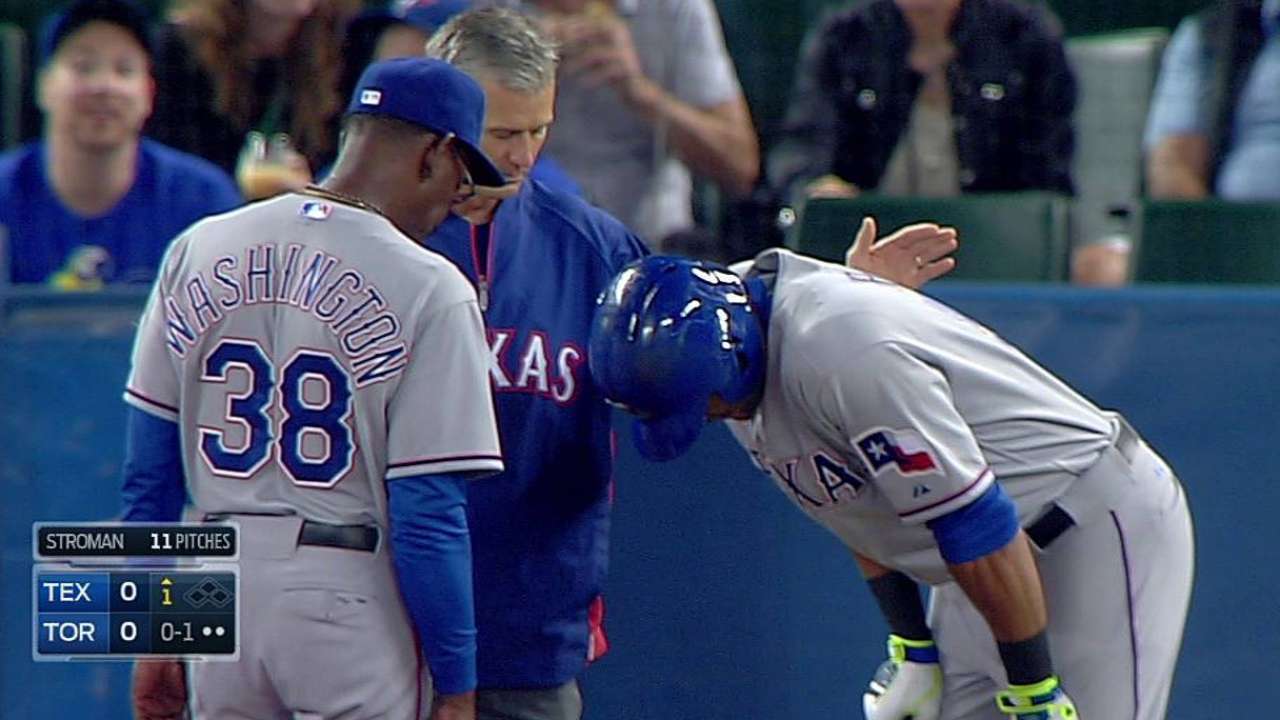 TORONTO -- Alex Rios feared the worst when he awkwardly rolled his ankle on the follow-through of a swing in the first inning of Saturday's 4-1 loss to the Blue Jays.
Luckily for the Rangers, their right fielder dodged a bullet.
Rios is listed as day to day with a sprained right ankle; X-rays came back negative.
"I was hoping that it wasn't broken," Rios said. "It happens every once in a while, but this time it was a good one. It's swollen up and sore, but hopefully it gets better soon and I can get back to playing."
Rios was forced to leave the game when he rolled the ankle after fouling back a first-pitch offering from Blue Jays starter Marcus Stroman. The 33-year-old Rios caught his cleat on the clay in the batter's box, and he immediately grimaced as the ball went out of play.
Rangers manager Ron Washington and a team trainer came out to check on Rios, and following a brief conversation, he was pulled from the contest.
"My foot got caught and my weight shifted to the outside of my ankle," Rios said.
Washington doesn't appear to be too concerned about Rios' recovery time, but he intends to keep him off the Rogers Centre artificial surface for Sunday's series finale, regardless of how well he feels.
"Right now, he's day to day," the skipper said. "Nothing is torn or anything. We'll see how he is tomorrow and then make another decision.
"Hopefully, he'll be ready to go when we get to New York [for a four-game set starting Monday]."
Daniel Robertson replaced Rios and hit a two-out single to center field, but he was stranded on the bases after Adrian Beltre popped out in foul territory to end the inning.
Robertson remained in the game as the club's right fielder.
Rios is batting .302/.330/.435 on the season with four homers, eight triples and 16 stolen bases in 95 games.
Chris Toman is a contributor to MLB.com. This story was not subject to the approval of Major League Baseball or its clubs.