Mikolas, Martinez take note of veteran Lewis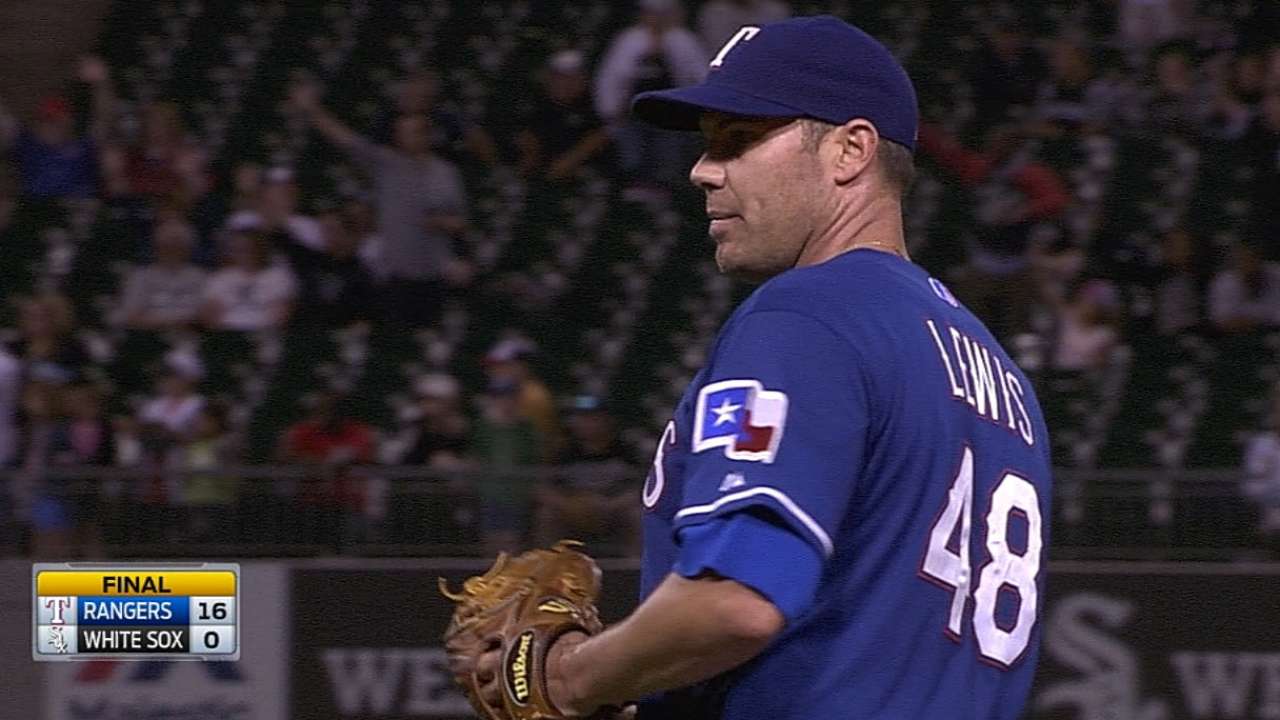 CHICAGO -- Rangers pitchers Miles Mikolas and Nick Martinez were both paying attention on Tuesday night when Colby Lewis threw his shutout against the White Sox. There was much to learn from a veteran for two young pitchers trying to establish themselves as Major League starters.
"I was paying a lot of attention," Mikolas said. "Watching Colby move the ball around, it shows you how effective you can be commanding all your pitches and staying focused. It shows how effective you can be hitting your spots, throwing your breaking ball for strikes and establishing the fastball. He was getting ahead and making them chase his pitches. It was a good outing to watch."
Lewis allowed six hits and a walk while striking out seven in his second career shutout. It was also the Rangers' league-leading 15th shutout of the season, as they ended up with a 16-0 victory.
"I asked Colby one question after the game," Martinez said. "'How do you stay focused with the game out of control like that?' He said, 'You just have to tell yourself to pound the strike zone and attack hitters. You can't mess around, start nitpicking and try to trick them. You just go right after them with the fastball. You start fooling around and you find yourself with men on base.' He did a great job of attacking hitters and choosing the right pitches. I was definitely watching."
Even Yu Darvish was impressed.
"I'm happy that he got a complete game yesterday, and also he's had a lot of respect from all of his teammates," Darvish said. "It's just like 2012, when he was leading the rotation. He's doing the same thing again this year."
T.R. Sullivan is a reporter for MLB.com. Read his blog, Postcards from Elysian Fields, and follow him on Twitter @Sullivan_Ranger This story was not subject to the approval of Major League Baseball or its clubs.