Rios out of starting lineup to rest sore thumb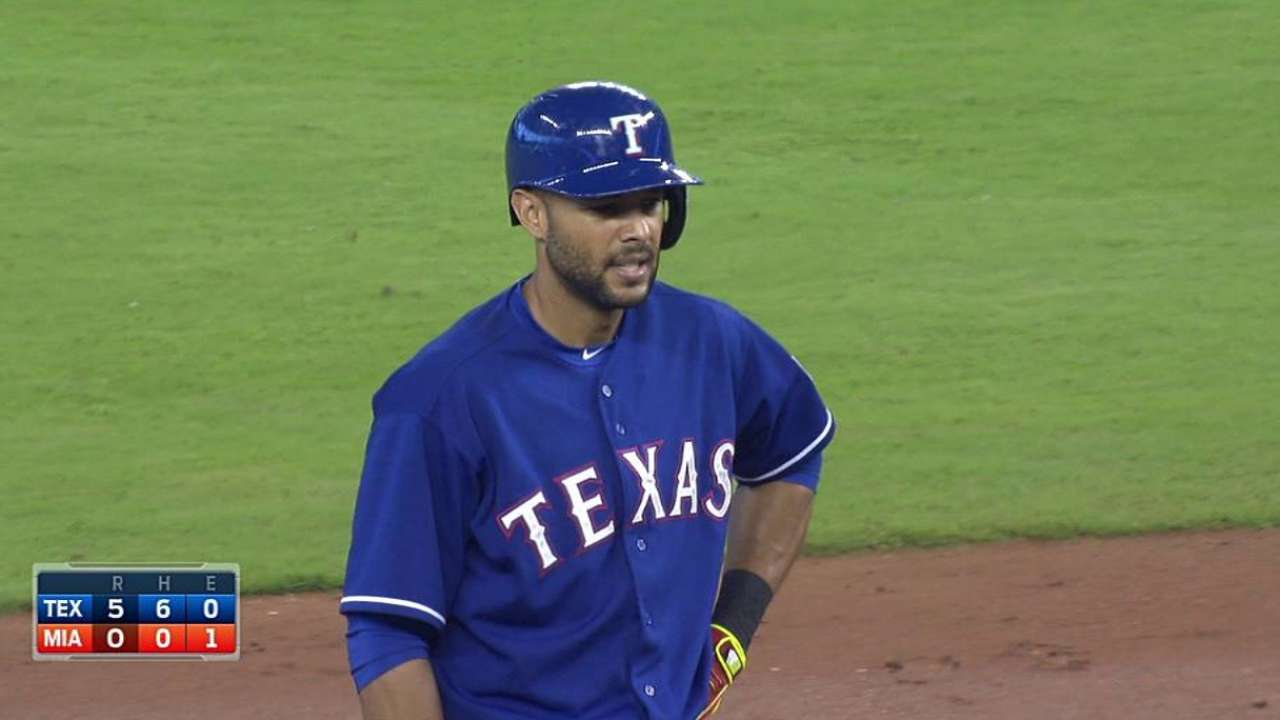 SEATTLE -- A word about Alex Rios' right thumb: bad.
Rios was out of the Rangers' lineup on Wednesday to rest the thumb, which has been bothering him for five weeks. That and a sprained right ankle are two reasons why Rios is hitting .196 with no home runs and 10 RBIs in 30 games since the All-Star break.
"It's sore," Rios said. "It's causing me to make adjustments in my swing that I don't want to do. Those things have implications, and I do things I'm not supposed to be doing. It affects you."
There are no plans to shut down Rios like the Rangers have done with Shin-Soo Choo (bone spur in his left elbow) or pitcher Yu Darvish, who is sidelined indefinitely with mild inflammation in his right elbow.
"That would be ideal to make it better," Rios said. "But even with this I can do a little bit. I like being on the field, and playing in pain is something you have to do. I like being on the field and challenging myself."
Rios sprained his ankle in the second game after the All-Star break and has been dealing with it ever since. Rios said the sprained ankle caused him to adjust his swing, forcing him to use more of his hands in his swing and less of his body. The outfielder said he thinks that's what caused the problem with the thumb.
Rios has pain and swelling, but X-rays taken last week in Miami showed no fracture. Manager Ron Washington said he checks with Rios every day to see if he can play. Most of the time the answer has been yes.
"He's a warrior," Washington said. "I'm going to keep running him out there. I'll give him a break today and see how he feels tomorrow. He is a part of this team. He wants to be there. That's admirable. It shows the young guys that things aren't always the way you want them, but you have to find a way."
Without Rios and Choo available, Washington has been scrambling to put together a lineup. On Wednesday, Mike Carp was hitting third with a .178 batting average, and Jim Adduci was hitting fifth with a .172 average. They were wrapped around Adrian Beltre, whose .327 batting average was 23 points less than the Nos. 3 and 5 hitters combined.
Michael Choice, hitting eighth, was hitting .173. Washington declined to use J.P. Arencibia, who is hitting .174, because he had Elvis Andrus at designated hitter and Adam Rosales at shortstop.
Rougned Odor, who is at .248 for the season but just .190 in his last 23 games entering Wednesday, started at second base. Robinson Chirinos, who is hitting .177 in his last 24 games, got the day off at catcher. Tomas Telis made his second Major League start at catcher.
"It's nobody's fault, we had to go find some bodies," Washington said. "It's an opportunity for those guys to show they are viable pieces. I know what the numbers say, but that's my team. I've got to put them out there. I'm behind them."
Rios' struggles in the second half have left him hitting .281 with four home runs and 52 RBIs on the season. When the campaign is over, the Rangers have to make a decision on Rios' $14 million option for next season.
"It is what it is," Rios said. "I can't do anything about it. It's in their hands to decide what to do with the team. I'm just playing baseball."
T.R. Sullivan is a reporter for MLB.com. Read his blog, Postcards from Elysian Fields, and follow him on Twitter @Sullivan_Ranger This story was not subject to the approval of Major League Baseball or its clubs.