Kirkman back in Majors as lefty specialist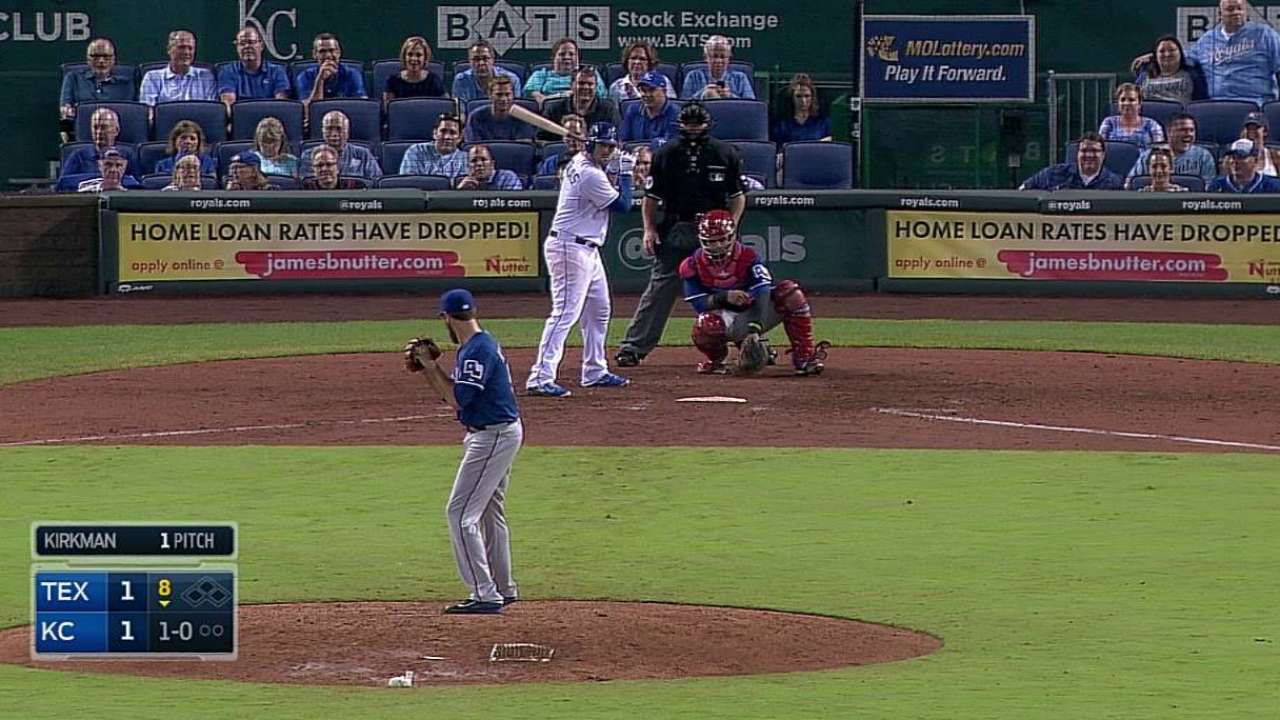 KANSAS CITY -- Michael Kirkman in 2014 hardly resembles the previous version that last appeared for the Rangers on June 6, 2013.
For starters, Kirkman, who made his 2014 debut on Tuesday against the Royals, will assume a role relegated primarily to facing left-handed hitters.
"I'm not sure," said Kirkman on how the decision was made. "Pitching coach Mike [Maddux] said I'd be facing lefties when I got here. That's what I'll be doing, I guess."
Kirkman was the losing pitcher in Texas' 2-1 loss. He entered in the eighth and faced four batters, three of them left-handed. Mike Moustakas slugged a leadoff double, Jarrod Dyson reached on a fielder's choice, Omar Infante flew out to right, then Kirkman hit Alex Gordon. Salvador Perez clubbed the game-winning single off Jon Edwards.
The left-hander features his lowest arm slot since 2010, when he completed his most impressive Major League stint with Texas (14 games, 1.65 ERA).
Kirkman last appeared for Texas in 2013. He posted a 8.18 ERA in 25 relief appearances and he delivered the ball from a more traditional arm slot.
"For whatever reason, I was getting higher and higher. I couldn't tell you why," said Kirkman, who hopes to add deception to his pitches with the new delivery. "I had to completely start over … eventually I got it to stick in my head, and I got it to work."
The Rangers sent Kirkman to Triple-A Round Rock for the start of the 2014 season. He started four games there, but it went poorly, as Kirkman allowed 18 runs in 10 1/3 innings.
He rebounded once restored to the bullpen, sporting a 2.45 ERA in 44 innings as a reliever at Triple-A this season.
"I'm just happy to be here," Kirkman said. "I never knew I'd make it back after the first couple months of the season."
Jackson Alexander is an associate reporter for MLB.com. This story was not subject to the approval of Major League Baseball or its clubs.